Kibera born-rapper Katapila won the Odinare Rap Challenge walking away with the grand prize of Sh1 million.
• BenC and Real Elai, came in second and third walking away with Sh500,000 and Sh300,000 respectively.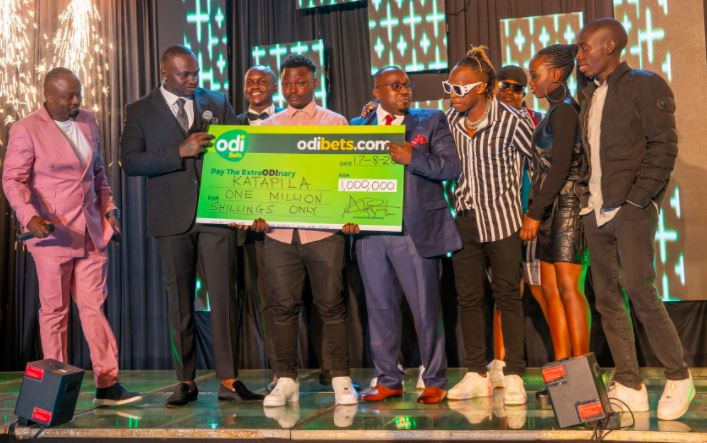 Rapper Katapila is the newest Millionaire in town, after being crowned winner of the Khaligraph Jones Rap Challenge #OdiNare that kicked off a few weeks ago.
The Kibera born and bred rapper was voted for, overwhelming by fans who loved his rap submission in the Challenge and on Tuesday, the rapper walked away with Sh1, 000, 000, after emerging number one among 6 finalists who made it to the final stage of the rap challenge.
According to Khaligraph Jones who partnered with Odibets to make the Odinare Rap Challenge a success, all the six finalist will feature in Khali Cartel 3, apart from signing recording deals with his Label Blu Ink.
The Yego hit maker said that the aim of the challenge was to uplift talented rappers who are struggling to come up in the Kenyan music industry.
"I believe everyone here is a winner, your determination, zeal and energy is what has brought us here today", said Aggrey Sayi.
The challenge saw rappers from all walks of life submit videos rhyming to the phrase Odinare as they aimed to win the grand prize of Sh1 million.