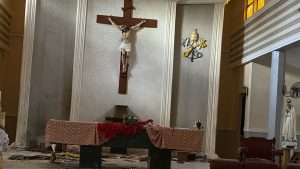 Pentecost Sunday did not end well for parishioners at St Francis Catholic church, Owo town, as at least 50 people including pregnant women and children were left dead after a mass shooting.
Unknown gun men allegedly entered the church disguising them selves as parishioners and started the shooting. They also detonated an explosive device in the church leaving many feared dead and others injured.
A state governor visited the scene of attack and condemned the incident, describing it as vile and satanic.
The Pope prayed for the victims and for the country, and  entrusts everyone to the Lord, to send His spirit to console them.
Musician Davido also took it to his tweeter account to pray for his country. " Jesus take control.. Pray for Nigeria. RIP to all the lost souls." He tweeted.
Ondo is widely known as one of the country's most peaceful state. " In the history of Owo, we have never experienced such an ugly incident" Said one of the administrators.
Catholic authority in the state denied one priest being abducted as some social medias had announced.